About Me
I'm a one person design studio, that specializes in web design and WordPress. I work with individuals and businesses of all sizes to create digital experiences.
---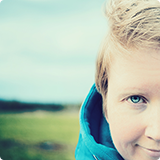 Who I Am
My name is Jenny Karlsson. I live in a small town in Sweden called Kristinehamn. I've been making websites for 15 years and I've been doing freelance full time since 2010.
When I'm not in front of the computer you'll probably find me outside with a big camera glued to my face.
In my free time I also enjoy movies, music, books and gaming.
What I Do
I'm a web designer, front-end developer, graphic designer and aspiring photographer. I love all things creative. I design clean websites and hand-code semantically correct HTML and CSS. My favorite tool is WordPress. For designing I use Photoshop and Illustrator. Although I specialize in designing for the web, I also enjoy designing for print and creating logos and such.
When I'm not working for clients, you'll probably find me in front of the computer working on personal projects and constantly learning and reading about new things and techniques.
I Love Photography
I got my first DSLR camera in 2009. During 2012 I did a 365 project, taking one photo every day for a whole year, which was a great learning experience.
Check my photos on Flickr
Where to Find My Photos
Prints of my photos are available at 500px and RedBubble. You can also follow me on Tumblr. A selection of my photos is available for licensing on Getty Images.

---
About The Site
Handcrafted graphics and responsive HTML5/CSS. Coded in Sublime Text 2, using Espresso Soda color scheme on a custom built PC.
Built on WordPress.
Hosted by Dreamhost.